Travel Information
Conference Center at RUB
Link to google maps: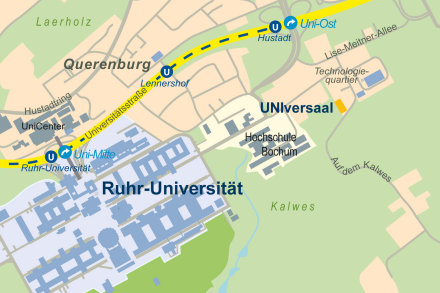 Travel map of Ruhr University Bochum: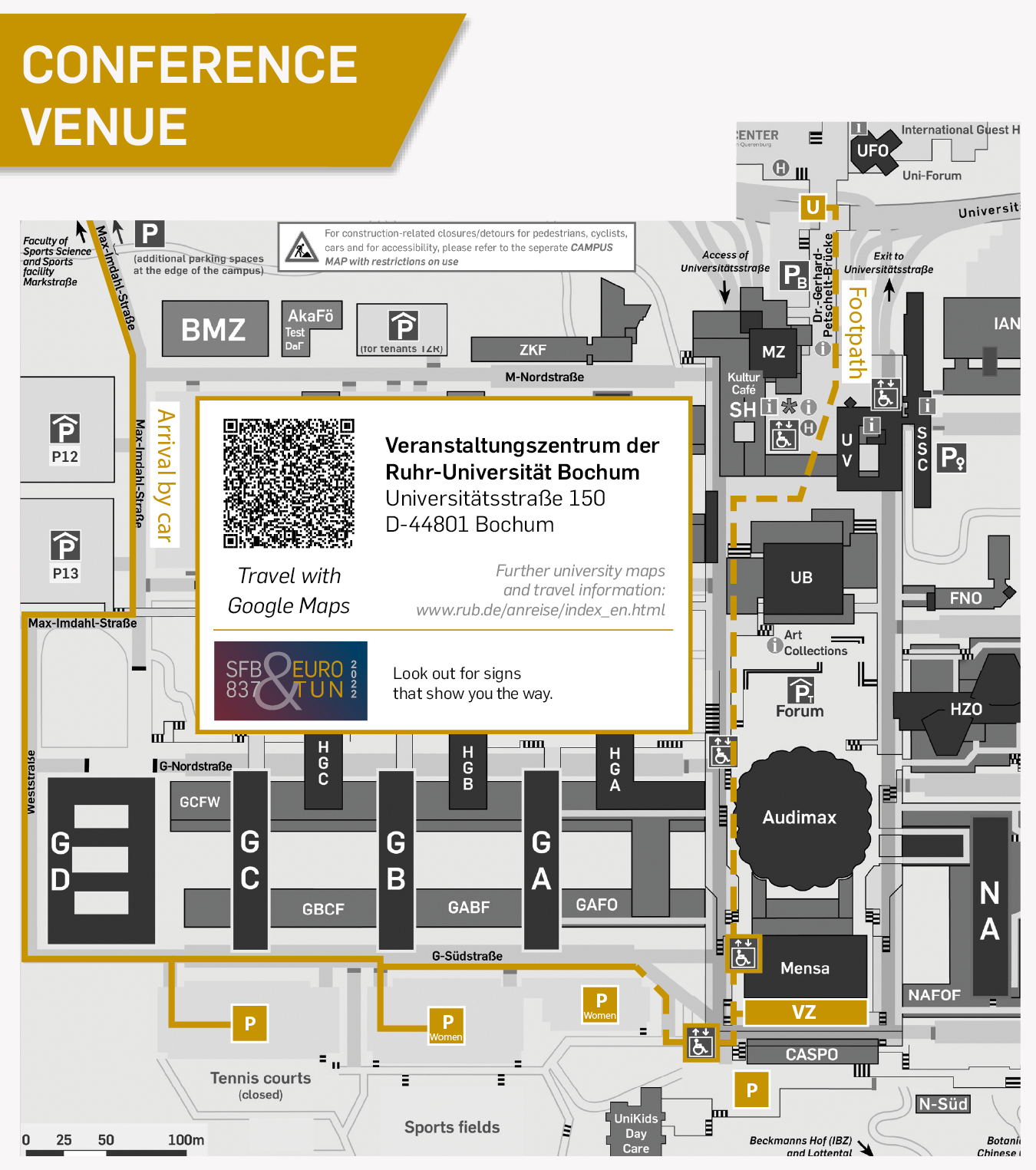 How to get to Ruhr University Bochum by metro and bus
The Ruhr University can easily be reached by public transport. Metro line U35 connects the University to Bochum's city center and the main station (Bochum Hauptbahnhof). From the metro station at Bochum Hauptbahnhof take line U35, direction "Ruhr-Universität / Bochum Hustadt (TQ)" and leave the train at "Ruhr-Universität" metro station.
Going back to the city center or main station, take line U35, direction "Herne Schloss Strünkede" or "Riemke Markt" and leave the train at "Bochum Hauptbahnhof" for the main station and at "Bochum Rathaus" for the city center.
For the 10-min trip to and from the University, a one-way-ticket "Preisstufe A3" (3€) or a "9 Euro-Ticket"(see further information below), which is valid for one month, is needed. Both are available at vending machines at each metro station. On weekdays the metro line U35 leaves every 5 minutes.
From the Ruhr University bus terminal, several bus lines leave that connect other parts of Bochum and neighbouring cities to the University. Local and long distance trains, connecting Bochum to other cities in the Ruhr Area and also to Düsseldorf, Cologne, Frankfurt and their airports leave at "Bochum Hauptbahnhof". The schedule of all public transport in the Ruhr Area can be found online at: www.vrr.de. For long distance trains, consult the website of Deutsche Bahn www.db.de.
For those of you who will travel from Duesseldorf Airport to Bochum we recommend the following special offer: the "9 Euro-Ticket", which is valid for one month. This ticket is valid on all forms of public transport across Germany, including buses, U-Bahns, S-Bahns, trams, and local and regional trains. With the 9-euro ticket you can use these forms of transport nationwide, but long-distance transportation services, such as ICE, IC and EC trains run by Deutsche Bahn, and FlixTrains and FlixBuses, are not covered. You can purchase these tickets online via the mobil.nrw-App (
http://www.mobil.nrw/9-euro-ticket
) or at the ticket machines at the train stations.
How to get to Ruhr University Bochum by car
The Ruhr University is located south-east of the city center of Bochum (Universitätsstr. 150, 44780 Bochum). To get there by car, the most convenient route is the A43 motorway (Münster- Wuppertal). Leave the motorway at exit 19 ("Bochum-Querenburg / Ruhr Universität") and take the express way towards "Ruhr University / BO-Zentrum".
Please drive from Universitätsstraße into Max-Imdahl-Straße. At the roundabout, take the exit towards "Uni-West" and continue on Max-Imdahl-Straße. Turn right into Weststrasse. At the end of the street you can only turn left into G-Südstraße. Here are the parking lots. Signs show you the footpath to the conference center ("Veranstaltungszentrum") of the Ruhr University Bochum.